Motivation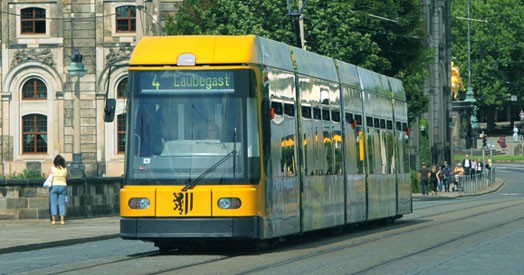 Against the background of dwindling global energy resources and increasing climate change, the use of more energy-efficient and low-emission technologies is also a central task for local public transport.
Vehicles with electric drive systems have the option of using their traction motors as generators. This enables the recuperation of kinetic as well as potential energy during braking. This principle is already often used in road vehicles, trams and trolleybuses. However, a prerequisite for recuperation is that other consumers (auxiliaries or vehicles in the same feed section requiring energy) in the network can use the recuperated energy. Alternatively, a suitable energy storage system can be mounted. This way, it is possible to increase the utilizable part of the recuperated power.
Taking into account the significantly reduced energy demand through recuperation as well as reduced network transmission losses, energy savings of up to 30 percent can be reached, based on the total vehicle energy demand. At the same time, vehicle energy storage systems can contribute to a stabilization of the grid voltage and to reduced peak loads in the catenary grid. The determination of energy and power reserves is necessary for the dimensioning of an optimized energy storage solution. These parameters depend on a multitude of influence factors, including, for example, the local distribution of recuperation into the catenary, the route topography and the influence of ambient temperature on the auxiliary power demand.
Since vehicles as well as networks and environmental influences differ strongly according to the local characteristics, an individual analysis of these parameters, based on measuring campaigns, is necessary for the application of an optimized energy storage system solution.