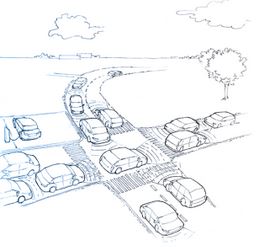 Intelligent transport systems of the future begin to adapt the swarm behavior of animals, using different forms of synchronization to optimize traffic flows and contribute to sustainable mobility developments.
The Saxon high-tech initiative »Synchrone Mobilität 2023« (Synchronized Mobility) bundles the core competencies of both Saxon industry and research organizations. Currently, more than 40 partners are working together to demonstrate innovative research results regarding new vehicle concepts, assistance functions, IT networks, communication, locating and navigation technologies as well as cooperative traffic management in the Dresden area. The city has been selected as model region for automated urban driving.
The research initiative will continue seamlessly the successfully implemented model projects from the recent initiatives »Model region Electromobility in Saxony« (»Modellregion Elektromobilität Sachsen«) as well as »Showcase Bavaria-Saxony ELECTRIC MOBILITY CONNECTS«. Intelligent transport systems are closely related to electromobility with all its ecological advantages, but without neglecting the respective technological limitations. These can be overcome partially by using information and communication technologies in various traffic domains and in the field of charging infrastructure.