Outset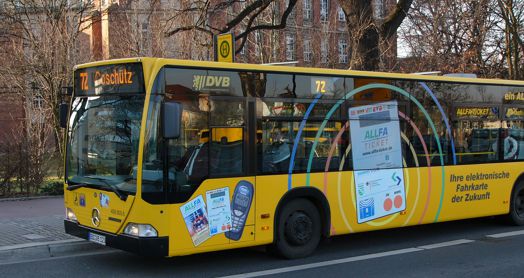 Within the »intermobil Region Dresden« lead project, which was funded by the German Federal Ministry of Education and Research (BMBF), an innovative fare management system for public transport was developed by the Fraunhofer IVI and Siemens VDO in collaboration with Verkehrsverbund Oberelbe (regional transport association), Dresdner Verkehrsbetriebe (public tansport provider in Dresden), DB Regio Verkehrsbetrieb Sachsen and other partners. The system's two main functions are:
automatic detection of passenger presence in buses and trams

automatic fare collection on the basis of a flexible tariff model.
For the first time world-wide, the passengers can act according to the »board and ride« principle and are free from any necessary actions before and during the ride (e. g., buying a ticket) and from knowing the tariffs and ticket distribution system and in advance.
This is made possible by the fully automated detection of user mediums carried by the passengers in the vehicles – the so-called »ALLFA Tickets« (special electronic cards or mobile phones). All media located inside the vehicle during a trip are registered with the help of special radio antenna using to the »Be-In/Be-Out Technology« (BIBO). With this system, it is possible for the first time to precisely detect all public transport rides, automatically calculate the correct ticket price and pay via a pre-paid anonymous account.
In the parking garage of the Dresden main station, the BIBO technology is used fpr a special task: when a key is pressed on a user medium, the parking barriers are lifted and the duration of the stay in the garage is determined automatically. Thus, switching from public transport to a private car is made more simple.