Project Idea and Content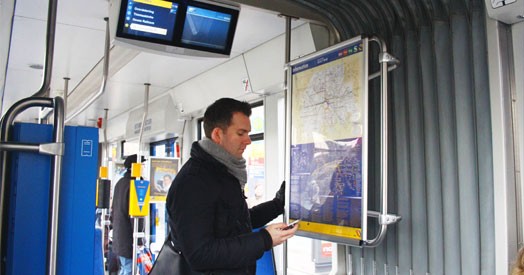 The aim of the MOSAIQUE research and development project was to establish an efficient transport management system in the Central Germany region.
Under consideration of the existing resources, the quality of traffic flows was to be increased, the transport users were to be informed better than before and the underlying processes optimized. In order to reach this aim, innovative methods were developed and demonstrated in the transport corridor Leipzig-Halle.
With MOSAIQUE, a »tailor-made suit« for regional transport management was created that is based on cutting-edge developments and technologies, and that takes into account the requirements of both public transportation and motorized individual transport.
The project was divided into eight sub-projects:
Transport system management

Traffic lights in Leipzig

Quality management and evaluation of the empircal impact assessment

PaRIS – Park and Ride Information Security System – Integrated network balancing

Easy.GO – Application of UMTS-based technologies

Decentralized network and organizational framework

IT platform for all transport management parties

Quality increase in public transport – Applications in the Mitteldeutscher Verkehrsverbund (Central Germany transport association, MDV)
The main task of the Fraunhofer IVI was the execution of the Easy.GO sub-project. The aim of Easy.GO was to develop and implement mobile services for the public transport system of the Leipzig region. In the process, the high performativity of the landline network was be combined with the opportunities created by mobile technology.