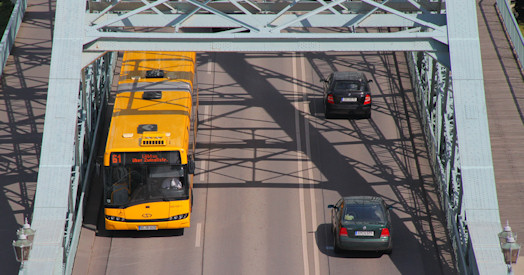 The level of interconnection and digitalization in complex transport systems is increasing rapidly. With the help of information and communication technologies, it is possible to organize traffic more efficiently, establish new mobility services and integrate traffic participants more actively. For over 20 years, the Fraunhofer IVI has successfully operated in the field of mobility and digital services. The department's work is based on an in-depth collaboration with a multitude of partners such as transport companies and associations as well as industry and public institutions.
The two working groups »Data Systems and Travel Assistance« and »Ticketing and Fares« successfully realize projects in a large variety of research topics, acting in interdisciplinary teams with a broad range of skills and on the basis of experience and know-how gained in practical project work. The staff includes computer scientists, information engineers, transportation engineers as well as automation technicians.
The Fraunhofer IVI is a partner of the »Competence Center for Scalable Data Services and Solutions« (ScaDS), a national Big Data competence center funded by the BMBF. In ScaDS, the institute can realize their own research and development projects in the field of Big Data.